Cement Brick Machine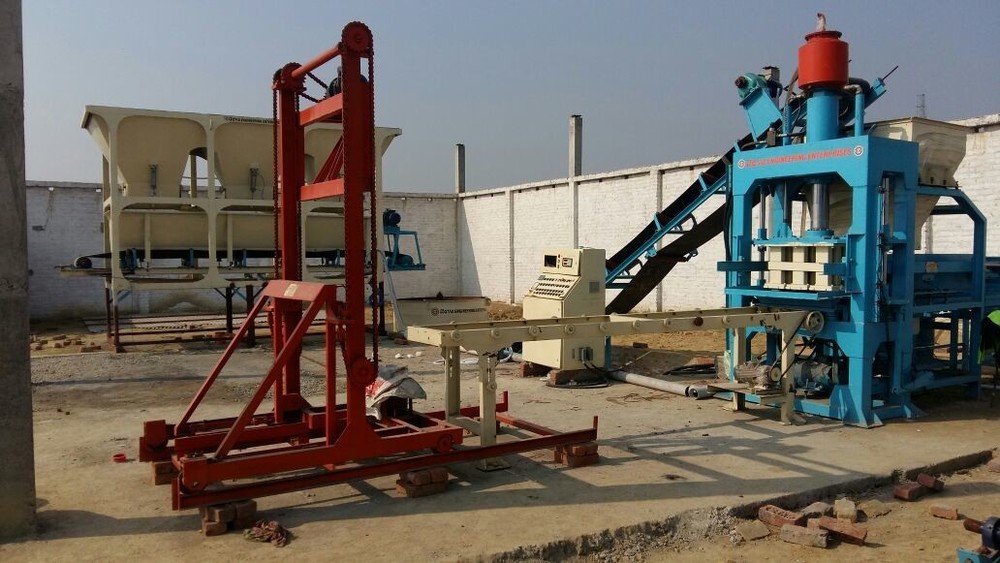 Bricks making companies and construction company can own our Cement Brick Machine for continuously producing cement bricks for the construction projects and selling purpose. Large scale production rate and long service interval are the key features of this machine. Solid and perforated bricks can be produced in different sizes. The production process starts with mixing the raw material in the mixing pan until a uniform blend is achieved. The uniform mix is filled in moulds. No gaps in the mix is ensured by vibrating process, which is followed by compacting in which the mix is compressed at high pressure. Strong bricks are formed in the process, which are then cured and dried. When the bricks are cooled down after the firing process, these are ready to be packaged and shipped to job site. By employing cement brick machine in your factory, customers can produce bricks in less time, while saving energy cost.


AUTOMATIC CEMENT BRICK MACHINE

The machine has heavy-duty construction along with 4 shafts that are instrumental in movement of the Ram Punch of Mould. It has a Heavy Duty Mould Vibrator.

PAN TYPE MIXER
Pan Mixer comes with Elecon/Roto-Reva worm reduction gear box. It is powered by 3-Phase electric motor with starter.

BELT CONVEYOR

This is used to load / unload the material present in the pan mixer. It is operated using a three horse-power motor that has a starter and a gear box.

FINISHED BRICKS CONVEYOR

It is operated by 0.5 HP geared motor and has length of about 12 feet.

AUTOMATIC STACKER

It is beneficial in lifting the pallets with bricks. Its operation is done via one 2HP motor, which is boosted with the presence of Mitsubishi PLC and a variable frequency drive.

AUTOMATIC COLOUR FEEDER

It has hopper and pan type color mixer, which is suitable for pavers

AUTOMATIC BATCHING SYSTEM

Auto Batching System with three bins for raw material. Load cells allows the raw material to be weighed on the belt conveyor. It also integrates an automatic batch control system, one week data storage and computer printing facility. Raw Material is automatically discharged. 7.5 H.P. geared motor is used to handle the weighing conveyor

Hydraulic Batching with integrated Weighing Support

Batching System comes with a hydraulic hopper with two bins for individual electronic weighting system for weighing separately every ingredient. This system comprises digital weight indicator, hydraulic hand lever/Valve operation to empty the three bins content for the Pan mixer.
Enquiry