Concrete Paver Block Machine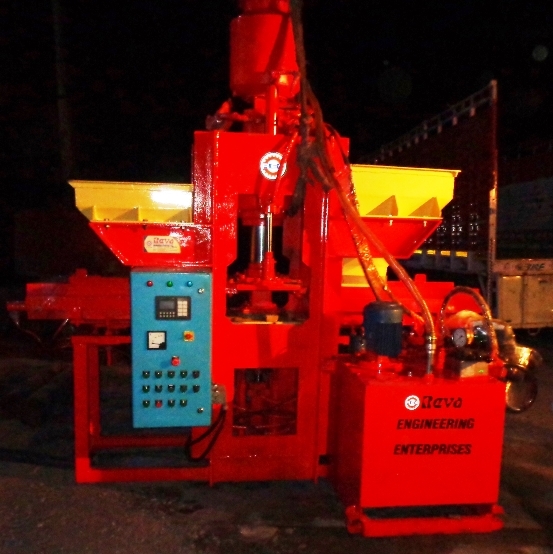 Reva Engineering Enterprises is an ISO 9001: 2008 certified company that fabricates and supplies Concrete Paver & Block Machine to customers. This machine is a result of more than 10 years of experience, innovative approach and technological production. This machine is designed to achieve quality and performance in the production of pavers and blocks of different kinds, like:
Concrete block
Concrete brick
Paver block
Solid block
Hollow block
Interlocking pavers
Low maintenance is one of the main features of concrete paver & block machine, giving relief to customers from precast construction industry. The high performance, reliable operations and durability factors are gaining orders for the machine. The machine starts with the blending and grinding ingredients in the pan mixer, the mixture is conveyed to the machine that produces compressed bricks and pavers. These are then cured for greater strength.
Automatic Concrete Interlocking Paver Block Making MachineREVA' Auto-Tile Press Machine
Model : RTP-3
Powered by 7.5HP Electric Motor of Hydraulic Control Unit
Production Capacity 4000 to 4500 pavers per shift
Controlled by Mitsubishi PLC
Automatic Concrete Material Feeder
Fine Material for Top Layer Feeder in the Mould
Hydraulic Pressure 2500 to 3000 psi
The Capacity of Hydraulic Oil Tank 250 Ltrs.
Automatic Pressing and demolding of Tiles/Pavers
Pan Type Concrete Mixer weighing 250 Kgs is powered by 7.5 H.P. electric motor with starter.
Belt Conveyor of 25 feet transfers raw ingredients from mixer to machine.
Pan Type Color Mixer is powered by 02 H.P. geared motor with accessories.

Enquiry